Why Every Small Business Needs Working Capital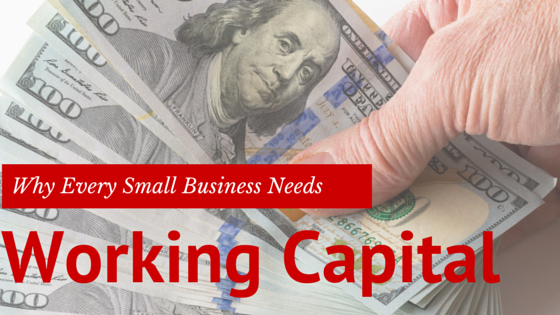 HOW TO GET THE WORKING CAPITAL THAT YOUR SMALL BUSINESS NEEDS.
Why Every Small Business Needs Working Capital. This blog will cover some simple things you can do for your business to reach your goals.
If you're a small business owner then you're responsible for the success of your company and with that comes a duty to your current customer base, your vendors and employees to practice sound business strategies. It doesn't matter if things are going smoothly for you, revenue targets are on track and cash flow is going well – you may even be operating debt-free thinking you've got this business ownership thing down. If you've been in business for at least a couple of years, you also know that sooner or later – it will hit the fan. When that happens do you have the necessary tools in place to survive?
Having worked with small businesses in over 20 different industries I've come across companies in various states with their finances. Some have the desire to operate debt-free while others have significant working capital at their disposal. The longer I'm in business the more I realize that it's no surprise that those who have secured working capital are growing faster and are a lot less stressed than their counterparts who try to build a business solely on their net revenue stream.
Unless you're just lucky enough to be in the top 1% who just happen to sell the "must-have" gadget of the year and are making money hand over fist, your ability to invest in your company is severely limited if you're relying on your existing cash. And, if you are only willing to put into your business a meager amount, then you might as well get comfortable with meager results.
Electricians, plumbers or other tradesmen, buy the very best tools, with lifetime warranties. Photographers purchase the best camera money can buy. These are necessary investments because they understand that having the best tools are critical to performing at their highest level. The same can be said for financial tools – absolutely crucial to small business success.
There have been times when our company has actually been completely debt-free and that was great when we were busy, and customers paid on time. But life happens. Within about a 4-week period of time we had two customers decide they didn't really need to pay; a vendor billed us 10 months after they'd provided a service, and we had to refund another customer's money. We took a $20K hit all within a month. It was too late to stop our own vendor commitments, so we spiraled quickly into massive credit card debt. (We did learn to bill upfront, so not all was lost). If we hadn't had nerves of steel, those incidents would've been enough to take us out.
It doesn't matter how great your cash flow was, it doesn't matter if you were debt-free, when Murphy's Law kicks into gear it can be fatal to a small business. So how do you protect yourself and your company? We had the same question, and we became determined to make sure we were never that vulnerable again. And for us, that meant acquiring working capital which would allow us to continue to invest in building our company despite Murphy and his cronies.
Establish a Line of Credit
The first thing we did was approach our local bank for a line of credit. This is not something we use a loan; it is there only for emergencies so the next time we run into a major cash flow issue we have a safety net.
Obtain Credit Cards with Benefits
The second thing we did was start looking around for credit cards running introductory specials. We found three different banks offering 0% interest on balance transfers and 0% APR in the first year. We immediately transferred a rather hefty credit card balance with over 20% APR across three other cards – saving us literally thousands of dollars over the course of one year.
(Tip: You're more likely to receive a higher credit limit from a bank you've formerly done business with (something to do with the banking industry's "points" system.)
Utilize credit cards that offer airline miles, hotel stays, cash back, or other awards programs. If you're using the card, you might as well get some benefits.
Secure an Online Loan
There is a new small business-friendly working capital solution that bypasses traditional banking methods. These financing companies have little overhead so their interest is crazy low and the process is super easy. There's no headache of dredging up tax returns and signing 30 pages of documents. This new breed of banking only needs access to your business bank account so they can review your banking history. Funds are typically in your account within 24 hours. Here's the best part – it won't affect your personal credit. This is huge for business owners, like me, who are personally guaranteeing every credit card and business loan. Some lenders offer services specific to business types. One example is Banker's Healthcare Group for the Healthcare industry. They provide loans and other financing solutions designed specifically for the needs of those business owners. Applicants receive a simplified approval process and can build a relationship with one provider instead of juggling four or five different institutions.
(Tip: With the company I use, they increase my available cash as they see my business account grow with new customer payments and as I pay them on time. Credit cards and traditional loans require you to either petition them, or you have to be a customer for a long time before they increase your credit limit)
Working capital is crucial to every small business and as a business owner myself, I've learned that incurring debt (and paying on time) has actually helped establish a better credit rating for our company and it acts as excellent leverage to keep growing!