WHY IS DIGITAL ADVERTISING IMPORTANT?
Having effective PPC - pay per click marketing - We call it Advertising Intelligence. This vital tool is fully transparent!
We call effective Pay-Per-Click (PPC) marketing Advertising Intelligence. This is a vital tool that is fully transparent! We get your company in the top 3 spots of Google, Yahoo, and Bing getting you more leads and sales. Call 888-723-7194 today!
The best part is these results are instantaneous!
How much is your time worth? Creating campaigns is time-consuming and manual reporting from each platform isn't scalable and eats into your margin. Use the VFM ADVERTISING PLATFORM to consolidate reporting from these advertising platforms:
Google Campaigns                    

Facebook Campaigns, 

Dynamic Facebook Campaigns

YouTube Campaigns

Native Ads Campaigns

VFM TractAds Display Campaigns (GPS Tracked Ads) 

Remarketing
Vision Force Marketing has the #1 PPC Program for this and is a lead-generating juggernaut. 
Our Pay-Per-Click (PPC) program uses a different approach than most of our competitors.
We offer the single source of truth for your business's advertising campaign by bringing your Facebook and Google Ads campaigns under one roof to determine what's working across ad platforms.
Pinpoint what's making you money. The VFM Advertising Intelligence Platform provides more than the traditional ad metrics and data points. By combining live reporting and unique sales data, we show you true ROI.
Cut down on overhead with automated reporting. We provide you with real-time performance reporting across all of your ad channels which means we provide you with reports, sent right to you anytime you want.
Smart tools make for smarter campaigns.
VisionForce Marketing® approaches PPC advertising, also known as "paid search" from a marketing strategy foundation. We do a lot of research before placing your PPC advertisement. 
If you have been intimidated to place PPC ads on Google, Facebook, YouTube, or other forms of digital advertising, you don't have to worry. We will guide you along the way. 
We are a true business partner and Small and Medium Business (SMB) Google AdWords Partner putting more power into your campaigns than being just a certified Trusted Google Partner. 
Get real-time results no matter where you are.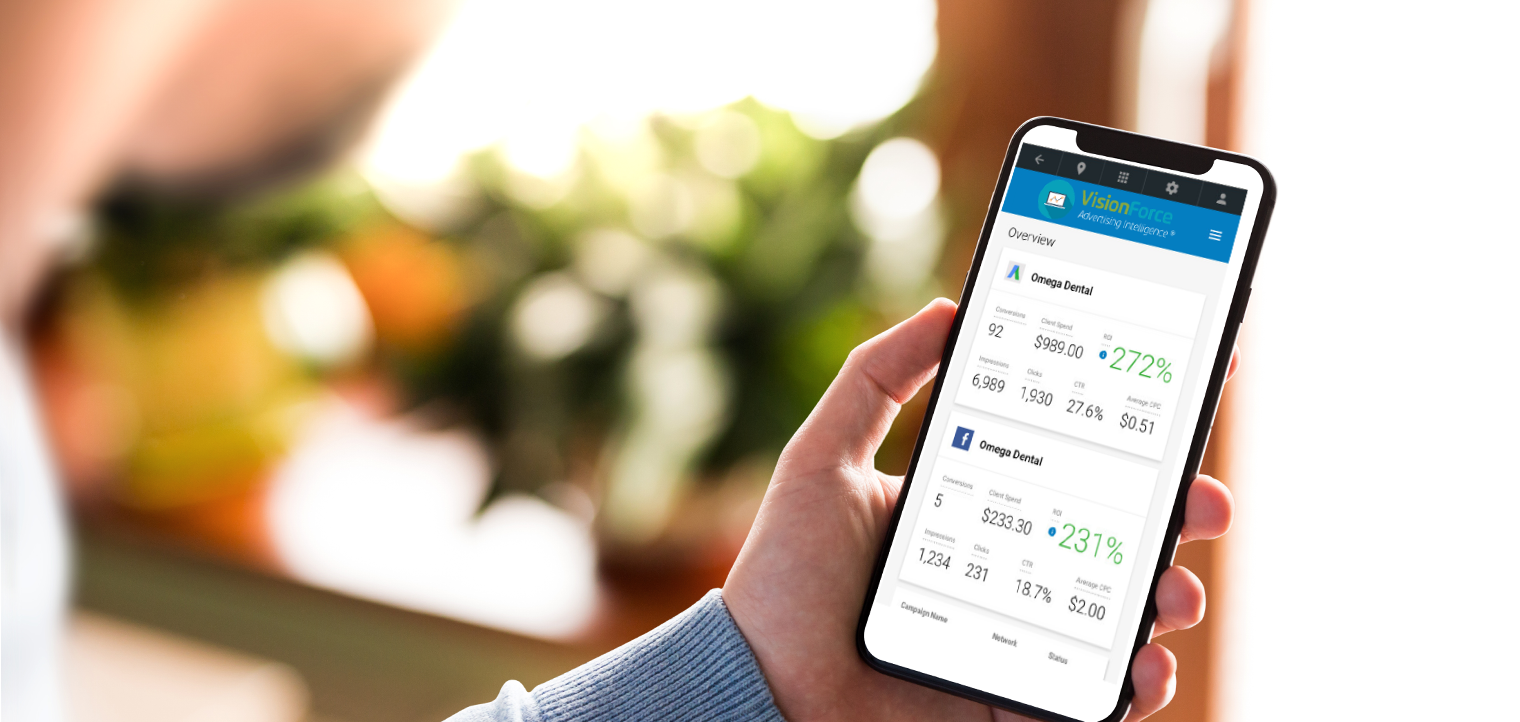 What have you been doing to grow your business?
Our software shows all of your ad's statistics in one place so you can watch your PPC performance. Your VFM personal marketing strategist can make changes as you see fit, and, will make suggestions based on the performance of your PPC marketing campaign.
How does VFM grow your business?
Start with a marketing strategy built around your company and team.

Discover your customer avatar

Discover the context of the search

Write the ad copy

Use VFM Advertising research tool for search count

Place PPC Ads in the top 3 spots

Develop complementary digital advertising campaigns

Test the campaigns

Measure the results 

Scale ad campaigns as we see which are the most effective
We will get you in the top 3 spots for the keywords best suited to your budget and business goals.
This ensures your PPC advertising generates traffic, leads, phone calls, and conversions. You control who sees your ads and when you want them to run. 
Harness the Power of

Facebook

and

Instagram

with Pinpoint Precision Digital Advertising Campaigns
This add-on has a minimum 3-month commitment and after the initial contract period is on a month-to-month basis.
Take advantage of Facebook and Instagram's extremely diverse user base to find the exact demographic you're looking for. With Facebook Campaign, our talented team will create and build the newsfeed ad so you draw in the customers you desire.
We make targeting on Facebook and Instagram simple. With technology like Facebook Pixel, custom conversion, site retargeting, dynamic retargeting, and custom audiences, our team can put your products and services in front of those who are interested in them most.
Managed services: Our team of experienced professionals will do all the heavy lifting for you, from setting up targeting and creating geo-fenced conversion zones to providing you with monthly proof-of-performance reports.
Reach the right audience: Our strategists target the people who are most likely to be interested in your business and then serve ads to them the optimal number of times.
Increased social media presence: Paid Facebook advertising is a fantastic way to increase brand awareness.
Frequently Asked Questions:
Where Will My Ads Show Up? 
The ads will be delivered on the Facebook newsfeed of your target audience. This technology is now also available for Instagram!
How Do I Get Started?
We have a 30-minute strategy session to drill down on your demographic, psychographic, and ideal avatar persona. We gather as much detail as possible in order to deliver the best possible experience.
How am I Billed?
Before we start, you place a credit card on file with us. We charge a setup fee and the first month at activation (within the first week). Consecutive monthly charges will be done on the same date each month following.
What does the timeline look like from order submission to campaign launch?
A formal onboarding call is not always necessary. However, the VFM Digital Ads team may contact you during the fulfillment process, if desired, in order to gather more information. Once deliverables are outlined by the team, the campaign will be launched within 10 business days. 
How often can I make changes to my campaign?
After the launch of a campaign, one round of revision can be done free of cost for every 3 months. Additional revisions would incur a flat fee depending on the revisions requested. 
Can I choose to target only Facebook or Instagram audiences?
Definitely. You can choose to target one or both audiences.