When It's Time for a New Website Design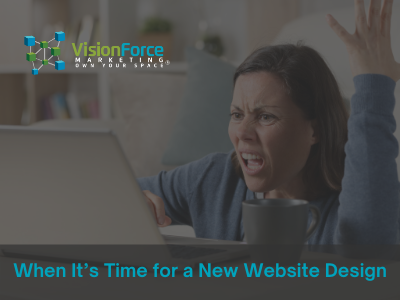 There are many signs that reveal when it's time for a new website design, but it's often more of a gut feeling. As a result, many business managers hesitate to make the decision to design or redesign their website.
Signs that It's Time for a New Website Design
Launching a New Company: Most entrepreneurs who launch a new company are aware of the necessity of a website, but they might not be aware of the importance of quality website design. A website is often responsible for the first impression your customer gets about the company. Therefore, it is as important as a physical storefront in a traditional, brick-and-mortar establishment. New website designs should reflect the qualities you want your customers to encounter such as visual appeal, functionality, speed, and security.
Lacking Responsive Design: A website design that lacks mobile responsiveness limits a business's visibility to the consumer. The design may deliver errors when viewed from a mobile device, or it may be so cumbersome to use on a smaller screen that customers are driven away. Today's mobile responsive website designs adapt to fit and function on all mobile devices regardless of their size.
Site is Over 7 Years Old: Every website design should be coupled with a life cycle that ends at or before 7 years. Being set in your ways is not a positive trait for websites, as customers get tired of the same thing over time. Keep them interested, up-to-date, and offer the best website design features by recognizing when it's time for a new website design.
Shift in Branding: Over time, sometimes a short time, businesses change. It might be an adaptation necessary to meet the needs of a niche market in the LaSalle-Peru area, or it might be an attitudinal shift of ideas. Whatever the change, your website design must match the new makeup of the company.
Outgrowing Site: It is common for new websites to be DIY masterpieces that require very little cash expenditure and survive on the sweat and tears of new business owners. The hosting is unreliable, and the website design is simple at best. This may work for a while, and novice website designers are empowered by their creation, but this feeling is short-lived. Once a business website is in heavy use, it must grow with the business.
Custom Website Design to Best Fit Your Business
When considering custom website design for your business, you have to decide if your current website fits your business and its future. Is it big enough? Is it old? Does it match the overall style of your brand? Is it technologically capable? If any of these questions indicate you should consider a new website design, it is worth the investment.