5 Things You Should Do Before Hiring a LaSalle, IL Website Design Company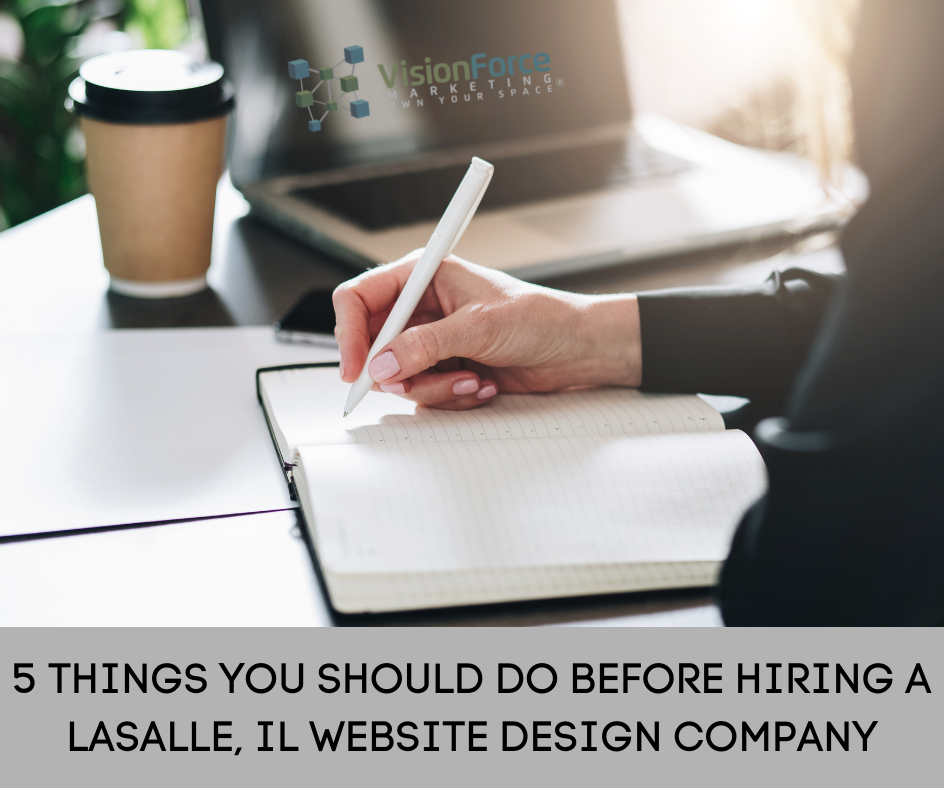 In order to start a website, you'll need a domain name, web host, and much more. If these terms are confusing, you don't have to worry. A good website design company will be able to obtain these things and design your website to meet your dreams. 
But what about before you hire out website design for your LaSalle, IL business? There are a few things you can do that will ensure that your website design is a streamlined success.
5 Things You Should Do Before Hiring a Website Design Company
Specify your goals and vision in detail. 
A successful business has a targeted plan, and so does a successful website. Goals can include items such as: 
Generate more leads

Increase brand awareness

Deliver informative/valuable content

Increase conversion and sales
Goals can be narrowed and quantified to be measured for analysis. This will optimize the revision process. Each goal should be compatible with the
website's vision, which is the overall purpose of the website. Once again, your
LaSalle, IL website design company can help you develop these ideas once you
hire them. Thorough, pre-emptive mentation on website goals and vision will
help to make the website design elements brand-oriented and productive. 
Create a budget. 
The old adage that you get what you pay for is
true in website design, but only to a point. Your LaSalle, IL business
budgeting practices should include the consideration of website function,
content management needs, website support, and specific company
offerings. 
It is vital to maintain a sustainable financial
position, but cutting corners on website design may result in a slow or
a non-functional website that fails to serve its function. Make sure you are
budgeting for quality and working with the website design company to find a mix
of services that you can afford.  
Make an ambitious website wish list. 
When it comes to your website wish list, dare to
dream. Don't be afraid to include things like augmented reality (AR) QR codes, geofencing,
or virtual stores. If you have an idea but don't know how to put it into words,
draw it out! Don't hold anything back, and you'll be surprised by how much can
be accomplished through website design. 
Prepare available content.
It's hard to wait for your website to be up and running, and it's even
harder when you are in the process of hiring a website design company. There's
no need to wait! You can start preparing content now. Not only will photos and
other prepared digital content make it easier to fill your site with value, but
it will give your design team an immediate understanding of your vision.
Investigate Website Design Companies. 
Finally, before you hire a company for website
design in LaSalle, IL you need to look at their history. Look at reviews, check
out their website or portfolio, and talk to business owners in the same
industry. Then, investigate any red flags. This approach will eliminate obvious
incompetence and give you the assurance that you are hiring the best. Websites are
becoming the bread and butter of the business, and you must make sure you hire a
quality company that will provide you with the best.