An Open Letter to Manufacturing Companies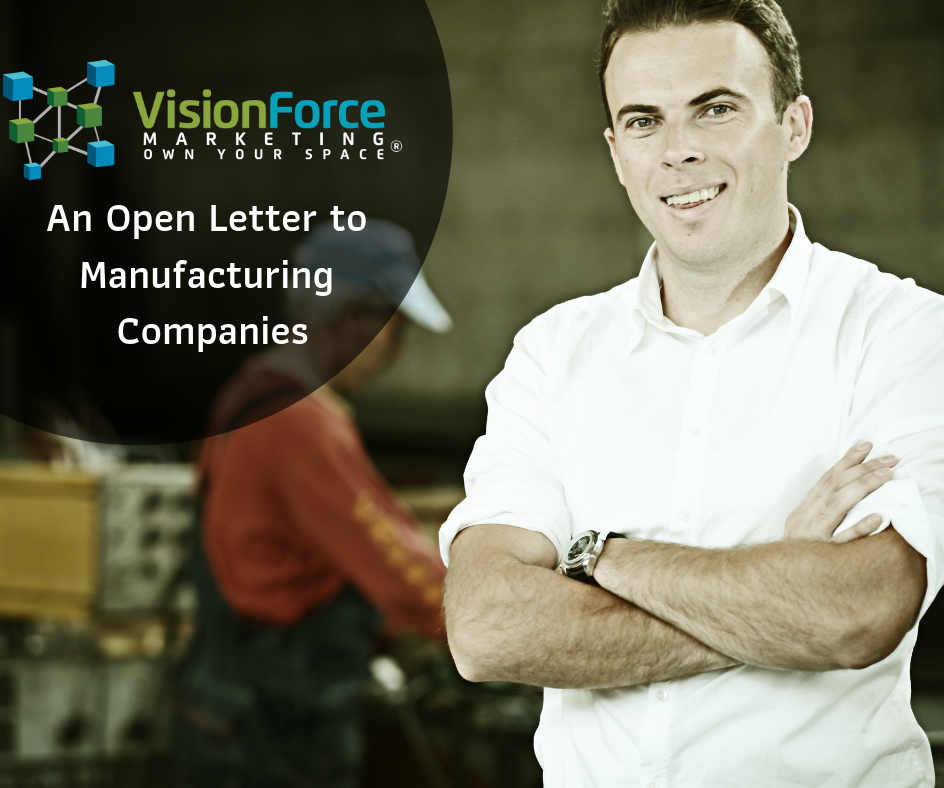 The manufacturing community has long been toying with how to appropriately implement social media into their marketing strategy. I was part of those discussions when it all first came in to play and years later, we were still having the exact same discussions. Despite consumer companies having tremendous success and despite an ever-increasing addition of platforms – many industrial companies have lagged behind the rest of the world's industries in fully embracing social media. There can be wisdom in allowing things to play out and learning from other's mistakes, but at this point in time, we know with certainty social media is here to stay. So why are companies still avoiding such powerful marketing tools?
It all comes down to a matter of priorities based on where there is perceived value. In manufacturing environments marketing is not just responsible for ad campaigns and brochure creation. Their days are also filled with developing product road maps, compiling competitive analysis and quite often, the same individual is also responsible for technical product launch details. Given the nature of those business-critical demands, it has been downright prudent to do what many of the industrial companies have been doing – taking care of the business at hand with one ear to the ground of what's happening to ever-growing social media marketing. However, the face of social media is changing and this time for the better.
Finally, there is a free social media platform which can be utilized for B2B industries. LinkedIn – it is social media all grown up. It is not a time to "wait and see"; it is time for manufacturing and other industrial companies to get involved. Why? Because the content on LinkedIn shows up on search; content creation is the means to an enviable end – a higher organic rank in the Google search engine.
Up until now, industrial companies could justify avoiding social media because the existing outlets encouraged inane content which never really served the industrial sector. "Our customers aren't on " ______" so we don't need to be there." This has worked for several years, but I maintain that the period of fence-walking is over.
LinkedIn is replete with intelligent business-minded people who have vigorously taken the reigns. The leaders in this platform are smart, business savvy and articulate. Community leaders actively participate and monitor group activity which means spammers and self-promoters are almost non-existent. The dialogue is authentic, useful and helpful. Interactions are diplomatic and professional and yet uncensored from corporate drivel because in these communities people interact as themselves, not as a company.
So, still, think you're going to wait and see what happens in six months? I understand you have a lot on your plate, so let me ask you this – Are you Ok with letting your competitor take over the Google search engine? Are you going to be Ok with your competitor positioning themselves as the industry leader in the eyes of the search user? And, before you make your final decision be sure you honestly answer this final question – Do you really know where your customer is going to be? As a former Trap shooter, I learned to lead the bird and then shoot ahead of my target; and when I got it right, in one glorious second that clay target shattered into a fluorescent orange burst more beautiful than any 4th of July fireworks display. It's the same principle in marketing, isn't it? You need to understand how your industry works and be able to lead it enough that by the time your customer get where you are, you'll already be addressing their need.
Manufacturers – this is what you've been waiting for – a social media platform which provides value. This is a tool which enables you to engage with your customers in a whole new, professional and productive way. In addition, the content you create and curate increases your visibility on the Google search engine. You can now create both public and private communities for your customers and employees. You can start today by creating a private community to connect your global sales and marketing teams to facilitate discussions for cross-selling opportunities, quickly address field questions and enable sharing of competitive and market information.
If I'm wrong about LinkedIn and you've taken my advice and after one year you only see an increase in your Google ranking, well it wouldn't have happened had you done nothing. If I am right, this could revolutionize the way you interact with your customers and even end-customers. Get here before your customer gets here, and by all means, understand that this is one platform you want to get a hold of before your competitor does.
Just like with trap shooting, online engagement requires a combination of adherence to rules, common sense, focus, and effort. Industrial CEOs, Presidents and Marketers – you can do this, you need to do this.
If you're looking for a place to start, join our LinkedIn Page Vision Force Marketing community today.