5 Steps to create a Marketing Plan for Your St. Charles manufacturing company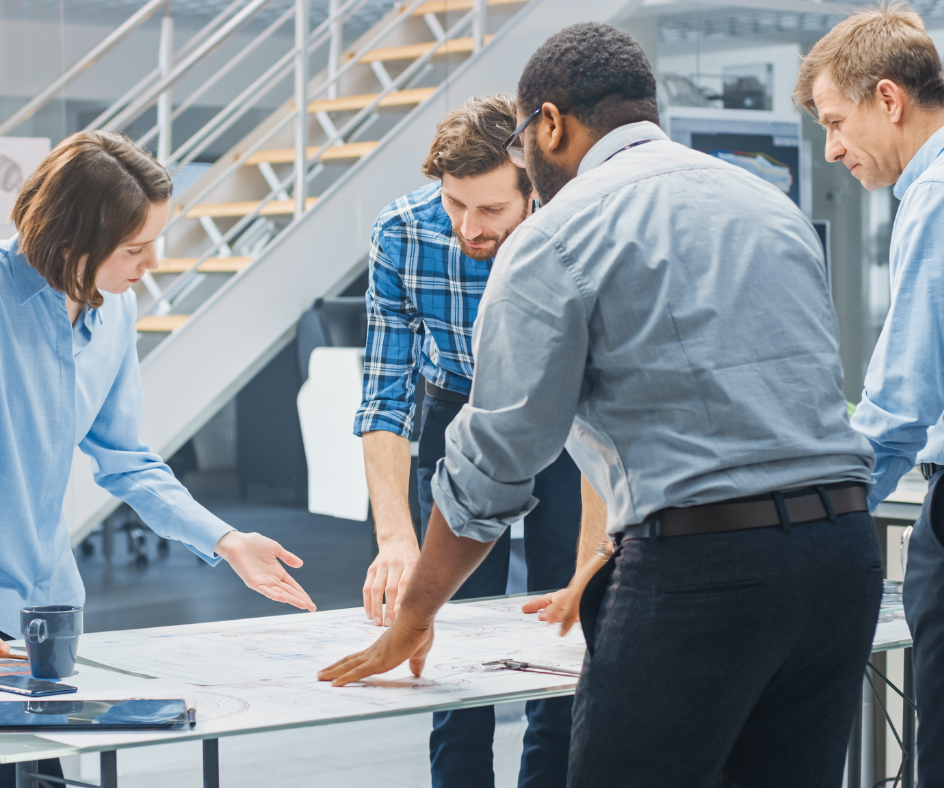 Writing a marketing plan when you're in manufacturing in St. Charles, IL can often be overwhelming and frustrating so let me help break this down in a few helpful steps from my manufacturing days as a product manager.
Some of the steps I outline to create your manufacturing marketing plan for your St. Charles-based business may not apply depending on whether you're trying to create one for a corporate entity with several business units or if you're trying to develop a marketing plan for a specific product line.
In the following 5 steps I'll do my best to walk you though the major elements, regardless of the scope of your marketing plan.
5 Steps to Create a Manufacturing Marketing Plan
Survey Stakeholders
This is not about making a decision by committee, rather acknowledging that you need to make sure that if you're going to put together a strategic plan for your St. Charles manufacturing company, you need to be on the same page as those executing the plan or who will be effected by the plan. For example, if you're developing a full corporate marketing plan, it's helpful to know what sales is hearing in the field, what your marketing teams needs to support your strategies and also know what the corporate goals are so you align your marketing initiatives with that overarching goal.
If you're developing a marketing plan for just a specific product line you may need to include a conversation with your field sales rep, customer service reps and maybe even your plant manager to understand manufacturing restraints.
Whether working with a single product line, multiple product lines, a single business unit or multiple business units – a marketing plan should never – ever be developed in a silo. Seeking out input and ideas from those closely involved in your St. Charles manufacturing process or in communication with your customers is absolutely essential to be sure you create a marketing plan that will be embraced by other team members, will be successfully implemented and have a positive impact on your company's bottom line.
2. Schedule Time
This is seemingly the easiest to do but I know both from personal experience back in my manufacturing days and from my clients, this is perhaps the single hardest thing to follow through on because there's always a fire to put out, a customer or vendor relentlessly pursuing an answer that must be addressed.
For this point, it doesn't matter if you're writing a corporate marketing plan or a single product line marketing plan – time is time and there's never enough of it. What I can say is you just need to put your planning time in your calendar as an appointment, just as you would a team meeting. When you start treating your planning time as just as critical to your company's long term success as you do all the other meetings you attend, it'll be a whole lot easier.
I typically recommend doing planning work off-site to avoid distractions and interruptions. It can be from your home office, the local St. Charles coffee shop or the St. Charles Public Library – somewhere where you can essentially hide.
I understand real emergencies do crop up, as long as your boss or your assistant knows how to reach you if there is a product failure or some other catastrophic event that no one else can address immediately, then you can relax. Remember, your company won't implode with you out of the office for an hour.
2. Outline Objectives
This can be tricky when you're trying to balance everything you think needs to be done, everything your customers want you to get done and everything corporate demands so, let's start with the top and work our way down by asking yourself these questions:
What is the corporate revenue goal for next year?
What other objectives has corporate established?
What is our number one complaint from customers?
What is the main thing customers keep asking for?
What capacity restraints do we face?
What regulatory restraints do we face?
What is the one thing our competitors do better than us?
You may need to swap out one of these for something more applicable to your manufacturing business but the idea here it to identify those big things – both non-negotiable (from corporate) and those things that your customer base would love to have (and hopefully increase their spend with you as a result) to determine how to even start your planning process.
3. Develop Plan
Admittedly there are about another 7 steps within developing a full marketing plan and if you're looking for a DIY marketing plan, check out this step-by-step book. It will break down the marketing planning process and provide you with a marketing plan template.
Certainly if you need help you can always reach out to an experienced marketing strategist, but if you just need direction, the book is simply the best marketing plan resource out there.
If you're newer to marketing planning and are unsure of the difference between a marketing plan and a business plan I've written an explanation here.
In the step-by-step marketing planning book you'll learn the following:
How to create an impactful Vision and Mission statement
How to uncover your value proposition
How to write a message that resonates with your target market
How to identify your decision makers and influencers
How to determine your market channels
How to write your own marketing plan
Receive a marketing plan template
4. Implement
This is always the hardest, even for those used to being very tactical. Inevitably, once people take the time to implement a marketing plan they feel so accomplished they let up on the accelerator after the plan is complete they end up losing all momentum. This is why this final phase is not only critical, it really becomes the differentiating factor of winning or losing in the marketplace. Strategy is strategy – it means nothing if not executed.
Not only will you need to be sure you have developed a marketing plan that is achievable you'll also want to build in some accountability for yourself and any team members or vendors tasked with implementing the initiatives.
If you need someone to create your manufacturing marketing plan in St. Charles, Il for you or just need marketing coaching for that accountability piece, we've got you covered with our manufacturing expertise. You can email me directly at Leah@visionforcemarketing.com or call +1.888.723.7194