How to benefit from a Fractional CMO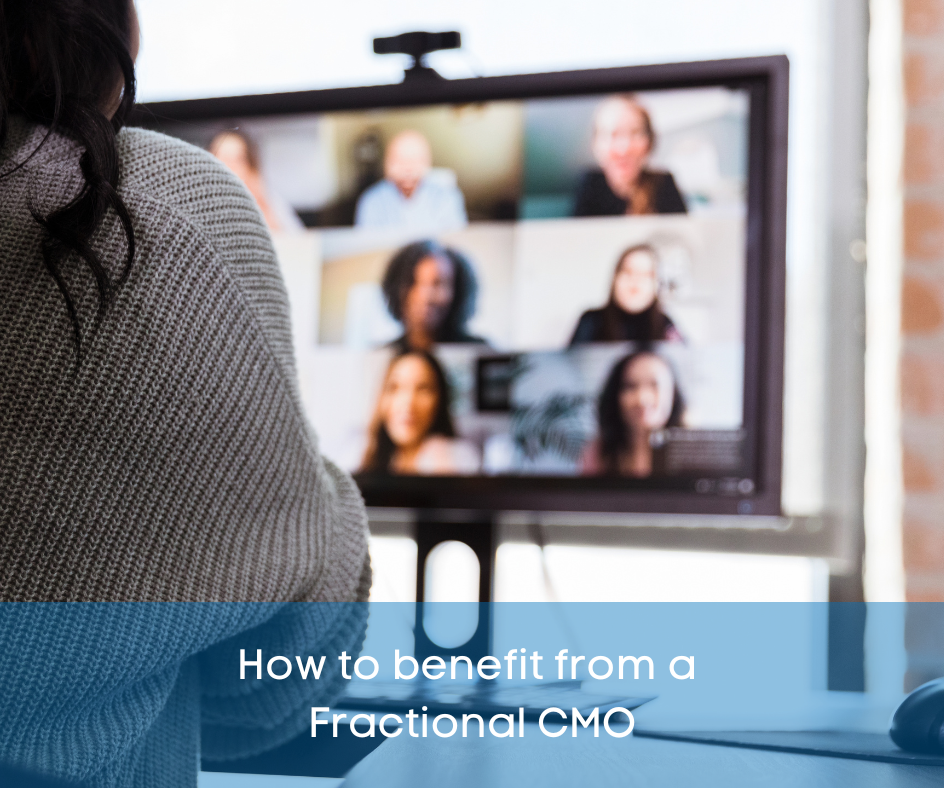 This article will show you how to benefit from a Fractional CMO. First, let's start by explaining what a "Fractional CMO" is. A fractional CMO is someone who acts on your behalf as your Chief Marketing Officer as a vendor, not as an employee. This reduces your overhead costs, eliminates the need to pay for insurance and other benefits and once the contract is up – it's entirely up to you if you want to renew.
Having a Fractional CMO means you will be working with a seasoned professional who understands how to drive results. They won't get caught up in the weeds or office drama. They know what needs to get done and they will find the team or work with your team, to drive your company to the desired results.
Fractional CMOS aren't someone whose dad knows the President or who went to school with the VP of Purchasing – it removes the politics, it removes entitlement, it removes the brain damage. If you want results, hire someone who has gotten results – hire a fractional CMO.
You gain all the advantages of working with a seasoned marketing professional — at a fraction of the price.
There's not much of a downside when hiring a fractional CMO. The only real disadvantage is you don't "own" the individual. Then again – that's an advantage because a fractional CMO will be free to tell you what you need to hear – not what you want to hear. Fractional CMOs aren't concerned about whether you like them as a person or like what they're saying – they've been hired to do a job and to get results. If you don't want results, most CMOs would prefer to work with another company that does want results because it's another successful client for themselves – they aren't going to waste their limited time working with a company that won't listen to their expertise. Their lack of needing you to like them empowers them to work smartly and do what is best for your firm.
If you're a company that wants better results, you may need to hear things that an employee will be too timid to say. Fearing a job loss will keep even high-level employees from speaking the truth. Knowing what that "truth" is can literally be the difference between staying open or shutting down your business.
Another benefit of hiring a fractional CMO is you won't have to worry about HR or legal issues when you're no longer satisfied with their performance. Simply, don't renew the agreement. You won't have employees who add to your overhead costs, you won't have someone who starts slipping in performance out of entitlement, and you won't have any personal drama – a fractional CMO is going to be working hard according to your specific agreement. As a vendor, they know to keep you as a customer they will need to continue to deliver results.
A fractional CMO just makes sense for small businesses.
Let's take a look at the alternative – the traditional way of hiring; if you were to hire a CMO as an employee you're looking at over $300K for a salary, and in addition, you will need to factor in an extra 32% for the benefits package. That percentage may not even include sales or management bonuses that these highly skilled and desirable professionals command in the marketplace. Is your small business able to afford that easily? If so, you may be the exception and you may very well need a full-time, in-house CMO. However, if you even hesitated then the answer for you, is no. You will be better off hiring a fractional CMO.
An experienced fractional CMO knows how to hold efficient meetings, and how to hire and fire vendors; they know how to hold team members accountable. They can put together plans and ensure those plans are executed by directing teams and delegating tasks. The experience and efficiency of a great CMO means they don't have to work 40 hours of week on any one company – they are the leader, the driver — the one orchestrating all the work. Fractional CMOs provide this service for multiple companies because they are leading people – working on the businesses, not doing the tasks themselves. You're paying for that knowledge, that leadership, and the ensuing results.
Your company can benefit from a fractional CMO because you're not absorbing the full brunt of their salary.  Rather, you're sharing them with a myriad of other companies so that you can reduce your costs. When you only require a little of their time, you get the benefit of only having to pay for part of their rate.
The Pros and Cons of a Fraction CMO for your business:
Pros
Expert marketing professional without having to absorb all the cost
Receive a more seasoned marketing professional than you may be able to afford on your own
Fractional CMOs are results-based
No long-term commitment
No personnel or HR issues
Do not need to pay for insurance benefits, unemployment insurance or management bonuses
Cons
A Fractional CMO is not your employee – they will only be available to you at specified times.
You will not "own" your Fractional CMO – you hire them based on mutually agreed parameters.
You will not be able to add things to their job as you would an employee without renegotiating the terms of your contract.
If you think you would benefit from a Fractional CMO, we'd love to have a conversation with you.  To be eligible for Vision Force Marketing Fractional CMO services, you will need to complete an application. After you've completed the form, we will schedule you with one of our marketing strategists to have an initial 15-20 minute interview process to see if your business will qualify.
All of our Fractional CMOs are experienced marketers who have worked within corporate environments, small business environments and who have run their own companies. If you're interested in talking about the application process please email Leah@visionforcemarketing.com or call 1.888.723.7294