How Can Website Design Market My Business?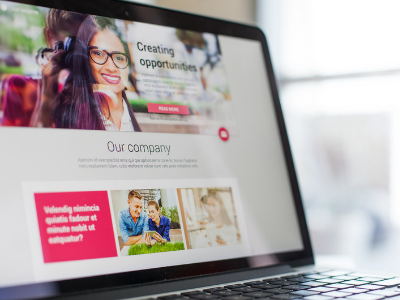 Written by: Monica Kochan
In today's marketplace, brand is king. It's your business' face to the world; it conveys your company's identity; it sets you apart from competitors. How you market that is key.
You may be used to defining marketing efforts in the mainstream sense—social media campaigns, email blasts, print marketing materials—but any time you brand your Utica, IL business, it's marketing. It's no surprise then that your most effective marketing tool could be your company's website.
Take a minute and browse your site. Imagine you're a potential customer who's unfamiliar with your business. If brand presence is vague; if the product or service is unclear; if the call to action is buried, then it's time to reconsider the website design of your Utica, IL company site.
Whether your website design needs a refresh or revamp, here are five things to keep in mind:
User-friendly Design – Users may be comfortable in the digital landscape, but that doesn't mean they should have to navigate a site with a bad UX (user experience), or in other words, an unfriendly site. Provide an engaging user experience that reflects your brand and brings people back.
Use your website to invite people into your company brand and purpose!
Up-to-date Information – If your website contains dated business or contact information, you run the dual risk of hurting your Utica, IL business' reputation and missing customer inquiries. Update information on your website and maintain credibility.
Keep your website current and increase your customers' trust and loyalty!
Brand Presence – Your site should scream your brand. If it doesn't, then the company identity will be unclear and disincentivize potential users from becoming customers. Instead, use your site to promote your brand online.
Motivate current and potential customers to support your company by presenting an identifiable brand!
Professional Look – Perhaps your website design showcases your brand, but looks unfinished. This discrepancy can drive away customers. Make sure your site design supports your brand so conversion increases on your website.
Align your brand and website design, and inspire customers to recommend you to their friends!
Cross-channel Marketing Alignment – If your marketing tone says professional and organized on LinkedIn, but amateurish and messy on your website, rethink your channel communications. Keep your marketing consistent across all channels to increase your Utica, IL company credibility and gain the buy-in of users. Vision Force Marketing can help you Own Your Space with an effective marketing plan.
Build a customer base by consistently marketing your business through a strategic plan!
Remember, whenever you're presenting your business, you're selling your business—so it better be a great sales pitch! You can accomplish this through a strong website design. That's Vision Force Marketing's expertise. Contact us today at 630.313.2805 or at info@visionforcemarketing.com to get the conversation started in a 15-minute consultation.