How Can I Implement a Marketing Plan at My Company?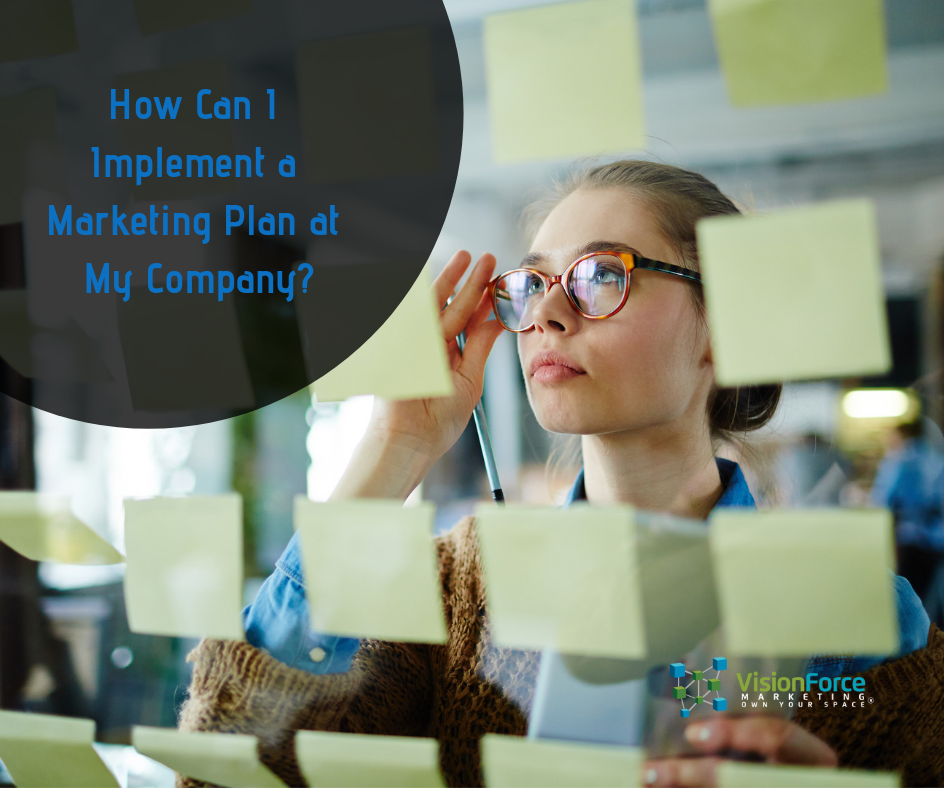 Most small business owners do not have the time, energy, or know-how to implement effective marketing strategies, much less develop a detailed marketing plan. It is no wonder many small businesses fail at marketing due to improper implementation of a plan. This is where a marketing consulting firm such as Vision Force Marketing can help.
If a business owner finds them with the energy to write out their own marketing plan, they can use Marketing Chomp as a guild to help build and implement a marketing strategy effectively.
The book (Marketing Chomp)  lays everything out neatly and more importantly EASILY!
The first step to take in order to develop a marketing plan for your business –
is to make a list of the primary objectives. These are the things that MUST happen by the end of the year. Next, figure out what you need to do in order to make each of those objectives happen – these are called Action Items. You will have 3, 6, or even 12 Action Items that must be completed to achieve even just one major objective. Don't get discouraged – this is just how you put together a plan!
Now, use your calendar to start entering start dates for each of your Action Items. And finally, the hard part – sticking to those dates in your calendar and holding yourself accountable when you don't have a boss to answer to. Create a Start Date and a Must Have Completed Date so that in case of an emergency customer meeting or a sick kid, you've given yourself realistic wiggle room to still get your Action Item completed.
Marketing consulting firms help small businesses write marketing plans that address their specific business goals. Implementing an effective marketing plan does take hard work and dedication, unfortunately, the last step. In order to achieve results, the plan has to be implemented, that means Action Items must be completed. When small businesses cannot give the needed attention to a marketing plan, it's time to seek help.
A marketing consulting firm like Vision Force Marketing will do all of the heavy lifting for you by working with you to develop the plan, hold you accountable and also assist where necessary on the implementation side.