The Power of 30 Minutes – the Ultimate Accountability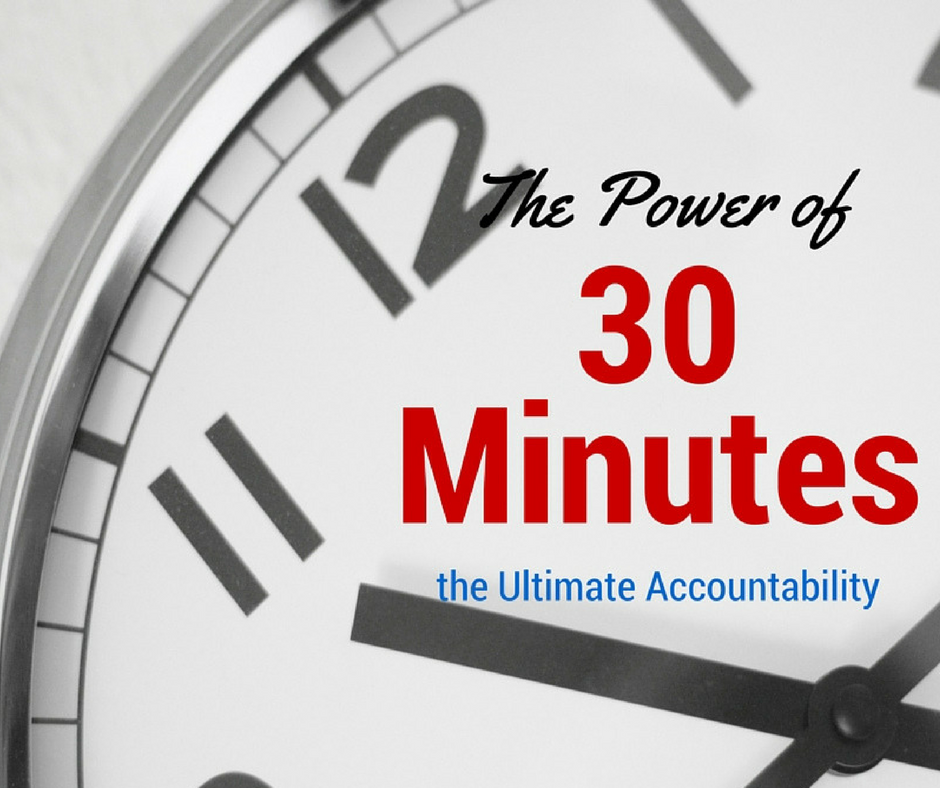 "I'll be there in 30 minutes!" the voice on the other end of the phone says, "OK, great" I hear myself saying with a feeling of panic rising in me as I look around my house complete with dust, crumbs, and piles . . . everywhere! No sooner do I hang up then I'm rushing around like a madwoman dusting, scrubbing and putting things in their rightful place. At the very last minute, I hurl myself down the steps to give the house a once over just as the doorbell rings.
Ever had one of those moments? Things seem frenzied at the time, you curse yourself for even agreeing to such a ridiculous spur of the moment visit but later once you've relaxed and have surveyed your freshly cleaned house you think to yourself "Why couldn't I have done this yesterday, it only took me 30 minutes!" Amazing what we can do under pressure and how fast we work when the possibility of looking like a slob to our friends is looming over us. It begs the question – why are we not that productive every day?
The frustrating part is that most of us know we have the capability, but unless there's a pending judgment on our housekeeping skills or the anticipation of the disapproving look from a boss we manage to lull ourselves into complacency. So why is it that certain types of fear can magically draw out of us the ability to work feverishly to complete the task at hand only on certain occasions? This is exactly why more and more professionals are hiring business coaches. People who want more out of life or who want to get to the next level understand their tendencies to put things off or lack of prioritization skills and for whatever the reason, these successful individuals know they need ultimate accountability to get what they really want.
"I just need more willpower!" you might tell yourself. But is that really all you need? According to Roy Baumeister, Ph.D. a willpower researcher and a psychologist at Florida State University, willpower is only one component. Dr. Baumeister's outlines three crucial elements to achieve objectives and they are as follows:
1) Establish motivation for change & Set a clear goal
2) Monitor behavior towards that goal; and finally,
3) Willpower
As important as willpower is to the overall success of achieving goals, it certainly is not the only ingredient and there's likely a reason Baumeister listed it last; because willpower means nothing if you don't have clarity on what is it you're trying to accomplish, or fail to monitor your progress. This is where the business coaching industry excels, because business coaches are trained to help you clarify your goals and figure out why they're important to you. They find the leverage you need to get on yourself to make the change you want. Furthermore, business coaches serve as accountability and a way to measure your progress as you move forward. The willpower – well that's still on you, but for those of us who are motivated by wasting money, falling back on our word or simply from looking foolish in front of our business coach for not getting something done – that's all we need to plow ahead, make the time and quite frankly, get sh%# done!