The Best Website Design Practices for 2017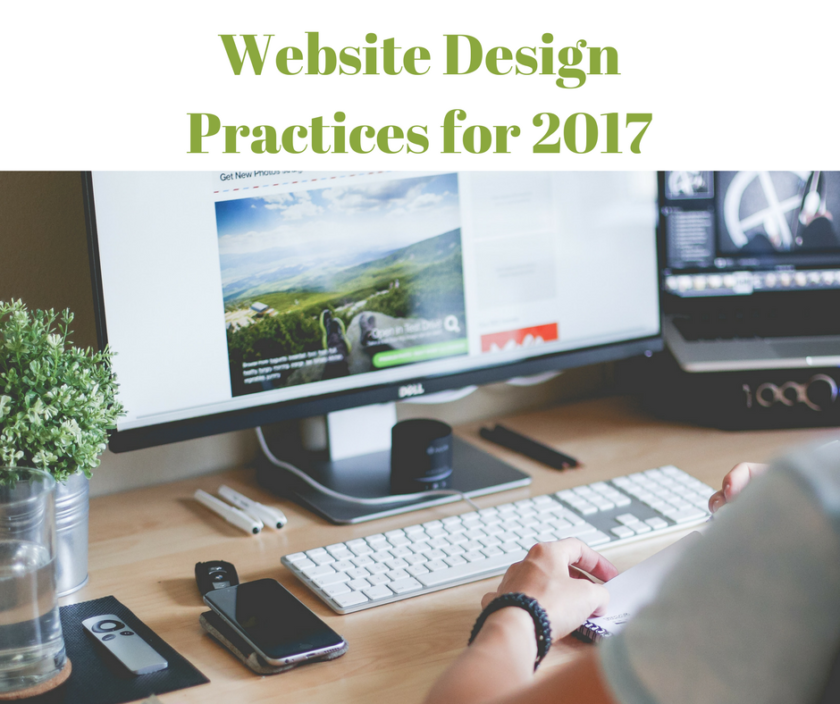 Relevant websites mean more than fantastic photos, easy navigation and a simple call to action. Yes, those things are very important, but they certainly will not give you the return on your investment all by themselves.
Why not?
First of all, the underlying architecture of the internet has changed in the last few years due to the explosion of mobile usage which required algorithm changes designed to give users more accurate listings when they searched. As web nerds learned how to manipulate search engines, the search engines in return, had to become more sophisticated in order to stay ahead of all the nefarious tricks.
What that means is what was true at the beginning of digital marketing has become even truer now – quality content is king.
The difference is that now it isn't enough to have the best content out there for your web design. Now you have to have the best-written content for your website. That's not as easy as it may sound. Writing a great novel or a book is not the same as writing content for your website. With our clients in St. Charles, IL (and nationwide) we provide a comprehensive guide to the overhaul of any web development project so we're going to give you a brief overview of some things you need to know when looking for a new website company.
Web design can be a cumbersome and confusing experience for business owners. There are so many different options and there are so many behind the scenes things that happen it can be hard to know where to begin or who to trust with your website redesign.
The first thing to know is that things are constantly changing with the internet so you will want to work with a web development company who understands marketing, not just people who build websites.
Understanding on-page SEO and how to tie in keywords, title tags and how to write meta descriptions is crucial. You also need someone who can attach your Google Analytics code so you can track activity to your site. And, one of the newest things to change, adding the latest Facebook pixel to your website so you can actually track demographics of those visiting your site.
It isn't enough to have someone build you a website if they don't understand how to size images properly so your site loads quickly. You also want to work with someone who can advise you on whether or not certain images reinforce your brand, not someone who simply uploads whatever you give them.
Seemingly fancy sounding things like a custom web site can actually hurt you if it's slow on mobile. Your site needs to load in under 3 seconds, and no, you can't use your own device to test it if you've looked at it before because your browser remembers the data. You need to test the first-time viewer's experience.
There are some important things to understand when writing content both for your web site pages and for your website blog. First, catchy literary references as titles in your blogs may show off how well-read you are, but it will do nothing to drive traffic to that blog or to your website. Why not? Because people aren't searching by an obscure reference to Hemingway – they're searching "where can I find a blue teapot", or "blue teapots" or even "blue teapots near me", which is where geo-targeting comes in, but that's for a future blog.
Bottom line is that people are asking specific questions about what they're trying to find.
Questions which you should be answering in the content of your website. The trick is to have your pages read logically but also drafted with SEO in mind.
Complicated? Eh, more complex but not really complicated. You have to have well-written content on your website anyway, it's just a matter of making sure you're optimizing and really leveraging it for all that it  can (and should!) do for you.
The next best step is to make sure you, or your website design company, are clear on which pages will hold which content, keeping the pages of your website clear on what content they contain without a lot of duplication. For example if you're located in St. Charles, IL and need to attract local customers, you will need to include the words "St. Charles, IL" in the content of your pages.
The other piece of good content writing and SEO is to write not in perfect, literary grammar, but rather in how people would be typing and searching for what you offer. It gets more complex in how to actually structure the sentences, so without making your head spin we'll end it here. Besides, you can always leave that work to us.
The bottom line? There is a 99.9999% chance your website has not been written with current search engines in mind. And that's hurting you, and if you're running ads, it's costing you money.
We know we just gave you a lot to think about with best practices with web development and the best ways to do things with website design; it isn't to overwhelm you but simply to educate you that there really is more than what meets the eye when redesigning your company's website.