How to Respond to Online Reviews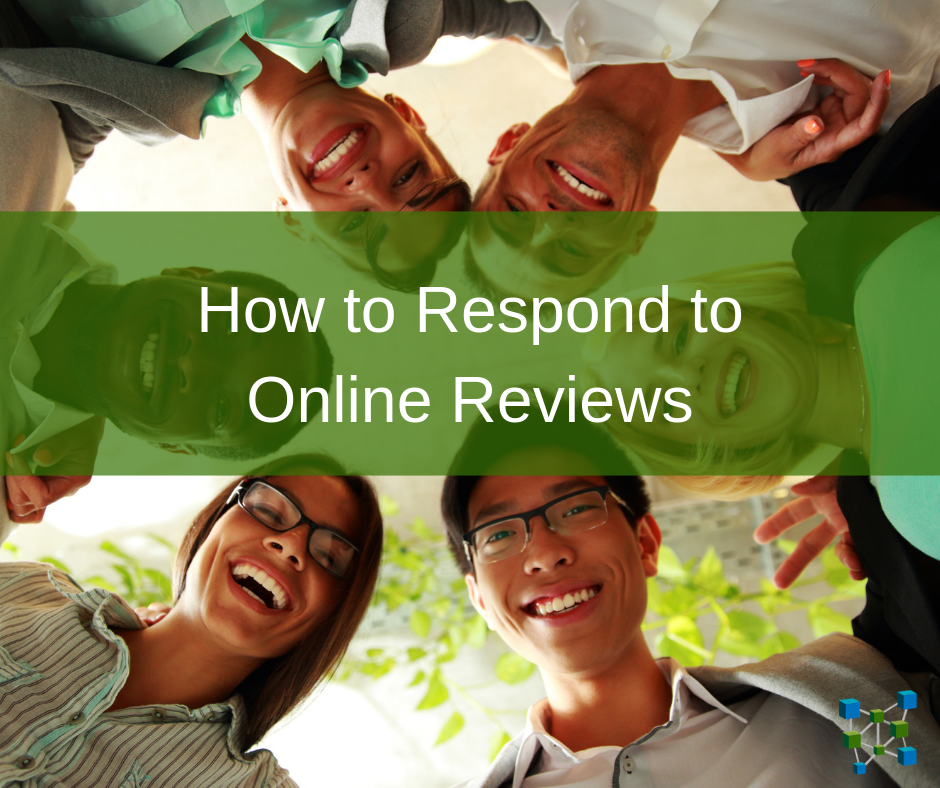 One of the key pieces of social media and reputation management is to respond to every review you receive online – yes the good ones and the bad ones.
We understand there can be cause for trepidation when responding to cringe-worthy reviews but there are plenty of businesses out there who never thank or comment on even the fantastic reviews they receive which means they aren't engaged with their customers and it makes us all care just a little bit less about that particular company. Buyers use online reviews to determine whether or not they want to do business with you so, yes — they really do matter.
It is important to recognize great reviews and address the not-so-great reviews in order to maintain a credible online presence.
Bad customer experience can seemingly haunt a business forever by being the first review that pops up when others are searching for a business. It isn't just disheartening, it can be really frustrating because some platforms don't allow the business owner much recourse even if the customer wasn't right or is unfairly venting about something that was clearly disclosed or even defies common sense.
With a few simple rules, common sense and a little diplomacy, you can learn to navigate these potentially rocky waters of online reviews.
But, first things first – if you don't have any reviews you need to start ASKING FOR REVIEWS! Let's be perfectly clear that there is a difference between asking someone to write a review who tells you they've had a great experience and offering an incentive in order to gain a positive review. Don't ever offer or promise something in return for writing a review. You don't want the perception that you have to bribe people to say good things about you.
The easiest way to get a review is after a customer has just told you how awesome you are. A simple, "That's great to hear! Would you be willing to write a review on (whichever platform you need a little help on), saying just that?" If the person is really that happy with your service, they're more likely to help you out (since you asked) and take the time to do it for you.
Now that we've got you on the right track by collecting reviews, just how do you manage them?
1. Be Strategic with review platforms. Understand which review platform is the most valuable to your business. For example, if you're more of a destination for travelers like a gallery or a restaurant that attracts tourists then TripAdvisor might be more important to you than Facebook. However, if you have one bad review on Facebook and no positive reviews, then you will want to focus on building reviews on Facebook first, in order to offset the one bad review.
One bad review when there are no other voices sends the message that no one else has disagreed with them but, when there's one bad review, two OK reviews and 4 great reviews people start judging for themselves and won't be as instantly turned off. In fact, they might read the reviews and think that your negative review came from someone who just had an axe to grind and decide to give you a try. Do you see how important it is to offset bad reviews with the good ones?
After you've received several good reviews they will average out and the little star rating will increase as your average improves. Then, you can direct reviewers to another platform, but concentrate on one at a time.
If you're starting with no bad reviews to mitigate, then we recommend that you start sending people to Google reviews first. Google owns the search engine market so it only makes sense that you have good reviews on your Google Business page.
2. Respond! Thank the great reviewers for their time for sharing their experience, thank the OK reviewers for their business and diplomatically respond to the bad reviews.
There's nothing worse than coming across a bad review that the company hasn't even acknowledged – people will automatically assume the review is the truth if no one has bothered to reply.
Tread carefully, don't fall into the temptation of matching the tone of the review. Avoid being snarky, defensive or belligerent – that only works if that is your brand and you're big enough to not care if you turn people off with your response. The rest of you – keep it unemotional, factual and respectful.
Think about the bad reviews you've read. You can tell which ones were written by people who were obviously emotional versus those who had a legitimate complaint. Likewise, when you read the businesses reply how many times have you thought to yourself, "that reviewer was just being a jerk", or conversely "sounds like that business had it coming!" Chances are if that's your perception, there are others who think just like you.
When it comes to responding to bad reviews that you weren't previously aware of (or maybe are just now deciding to address) a simple reply asking them to reach out so you can make it right with a contact name and phone number is always appropriate.
What about if someone is really rude and you tried to address it with them one-on-one only to them have them vent online? I've seen this done effectively when there are clear facts in the business' favor such as the customer signed an agreement or approved repairs only later to deny they had any knowledge of work that was being completed. In those instances, lengthy replies from the owner show other users that the business tried to work with the client and is publicly stating their policy.
Don't provide the same rote response to every unhappy client or use passive-aggressive or condescending language. When you feel like you want to write a response to that, use the same system as if you need to vent to a colleague – write it out as a draft, vent – then come back to it in a day after you've cooled off. Remember, this is going online permanently, literally for the entire world to see.
Just as you would handle any email professional correspondence, be wise and slow to respond. Ask a third-party to read your response before posting, make sure you stick to the facts.
Once you have replied, if they reply back to you, resist the temptation to get into a tit-for-tat online. It is not productive and will appear petty on your part. Leave it alone. Other viewers will see that you tried to respond but no one wants to read ongoing drama – well, maybe they do but let's keep that for "reality" TV. We don't recommend it being tied to your brand.
3. Don't let a bad review ruin your day. It's OK to receive a bad review! Understand that you will NOT make everyone happy and the longer you're in business and the bigger your organization – the likelihood of receiving an unfavorable review will increase. The more product-based and less personal your business is will also increase the chances of receiving unfavorable reviews as the end user is removed personally from you.
When you are a high-touch, relationship-based company with personal communication with all of your clients the less likely you'll have to deal with really bad reviews. But even if you do, it's not the end of the world and your business will not suddenly tank just because of one bad review.
If you're a restaurant who is churning clients you should fully expect to receive bad reviews. You will have staff who drops the ball, you will have grumpy people, you will have picky people who no one could please – it comes with the business. On the other hand, poor online reviews can show you where you need to still improve (and we all need to continue to improve) so try to look at it as a way to get real, unfiltered feedback from your market.
People want authenticity and the younger generations actually LIKE seeing negative reviews because they want to "know the dirt", as one millennial shared with me. And, in some cases, even those of us who are older want to go in with our eyes open. If the restaurant review is a one-star because it's "typical bar food but drinks are great" – if that's all I'm expecting and all I want – that review won't deter me from stopping in. Now, if that bad review talks about how dirty things are – that's going to stop me from coming in! You, as the business owner, need to listen to that feedback, clean whatever it was, apologize to the reviewer, train your team to ensure no one ever calls your restaurant dirty again – before you go out of business.
The below example is a Google review that had no comments attached, just a 1-star review, frustrating for a business who has only 4 and 5-star reviews from all other reviews. We think this is a great response from the owner.

Some reviews can happen accidentally, especially on Facebook and it's happened to clients who were small enough that they knew this was not a customer. First, a user might accidentally hit the one-star scrolling through your page and not even realize it. Secondly, they might be a competitor or simply a mean person. Regardless, a simple response stating you're disappointed with their response since they haven't done business with you will ping them. If they accidentally did it, perhaps they'll remove it as they will receive a message that you responded to their review. If they don't, you do have the chance to flag false reviews on some platforms.
Facebook will allow you to report it and then you just have to be patient while they review it. Select the three little buttons to the right of the reviewer's name to see the pop-up menu.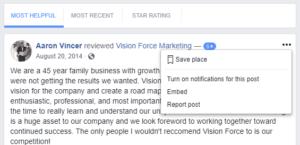 On Google, when you hover over the review, a gray flag will pop up which you can use to report a false or hateful review. Remember, these platforms are not going to remove a review just because it makes your business look bad, they will only remove it if it violates their policy.

Yelp is one of the few platforms that can be really frustrating for small business owners. Their policy actually states that they won't publish a review if it's "too good". Yep, that's right – so it doesn't matter that you worked your butt off and stayed up all night to help your client, doesn't matter if you heavily discounted someone in need so they're eternally grateful – if they write something that is really spectacular – you may never see it posted.