Don't Just Compete – Own Your Space in 2018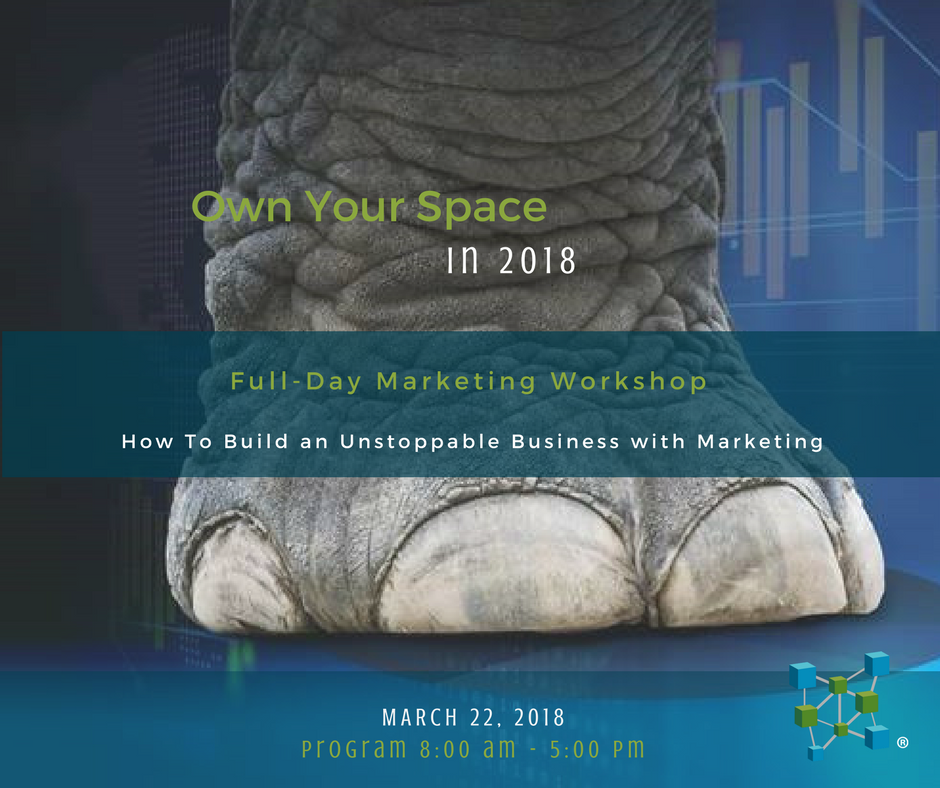 You won't find another all-day marketing training quite like this!
We follow what's going on with marketing events, we've paid lots of money to go to them — and sure, you'll hear big-name speakers and you may walk away with one or two nuggets – but they don't teach you how to implement.
That's where we're different.
At our marketing workshop, we'll we walk you through exercises so you can apply what you learn. We address things going on in your business right now and we answer your specific questions.
Know what else is different?
Most marketers hold back just enough so you have to hire them to actually implement. They'll hold webinars and write books with the promise of all their secrets (we've been to 'em & we've bought 'em), but guess what? They don't reveal how. They just know it's a great hook to get you to buy their consulting. They're great AT MARKETING, but they suck at helping the really small businesses! They hold back so you're forced to hire them – which is fine if you have tens of thousands of dollars, but what about everyone who can't afford that?
Get this, last year we even paid to be part of one guru's "inner circle" which was supposed to be about the how to implement and we were even selected to be part of his live Q & A. We were really excited because his assistant told us he was going to answer our specific questions, but do you know he dodged our questions and wasn't helpful – not even a little bit! We were so disappointed as we realized again, it was all smoke and mirrors.
We get frustrated with marketing professionals, so we know YOU do!!
From the first days in business, we vowed to be different.
We have offered free workshops, free training, free resources and I have proven with my book, Marketing Chomp, that we're a full disclosure kind of company. I gave readers the complete marketing planning process (and lots of other great stuff!) without holding back.
Sean continues to doggedly follow the latest in marketing trends and technology and I follow the social media trends so we've gotten results with our clients.
We are bringing you the best of what we've learned to this one full-day training event!
Sean and I are both passionate about giving as much value as we can, and if you've heard us talk, you already know that. If you haven't, well you need to come to experience it! If you've never been to one of our workshops, we know you're going to love it!!
We give you the tools you need, we tell you the resources to use, we answer questions honestly & directly.
Register here so you can rock out your marketing in 2018!
What you'll learn: 
• Aligning your strategy
• How to really use social media with all the latest changes
• How to write amazing copy people want to read
• Understand how search engines work and why it matters to your business
• How to generate leads
• Website Design that helps convert those leads
• Marketing automation, email marketing and so much more!
And there's a HUGE BONUS! After the event, each attendee will receive:
TWO one-on-one coaching sessions ($595 Value)
LIVE webinar

(for attendees only)



Access to a closed Facebook group

(for attendees only)

for 3 months of

ongoing support from us and to stay connected with your fellow attendees.
Why would we do all of that?
Because we know follow-through is EVERYTHING! If you just come for a day, within a week you're going to have a question on something you wish you'd thought of during the class. By providing an avenue for you to work with us beyond just one day, this will be the BEST MONEY YOU SPEND ALL YEAR!!
Ready to make a commitment to have an even better 2018?
Register and join us for this exciting and fun event on March 22!
This training event will be held at the Q Center in St. Charles, IL. The event fee includes beverages and snacks at breaks and an all-you-can-eat lunch which includes soups, salads, cooked-to-order entrees, and desserts. The Q Center can accommodate even the strictest dietary needs.
Overnight guests, please email Leah@VisionForceMarkeating and we'll put you in touch with our events manager for hotel room pricing (which includes transportation between Chicago airports and dinner and breakfast.)
It's only three months away (which will be here before we know it!) and we're getting excited!! We love training and we can't wait to see you there!! Sign up Now!
Sean & Leah