How SEO Can Benefit Your St. Charles Business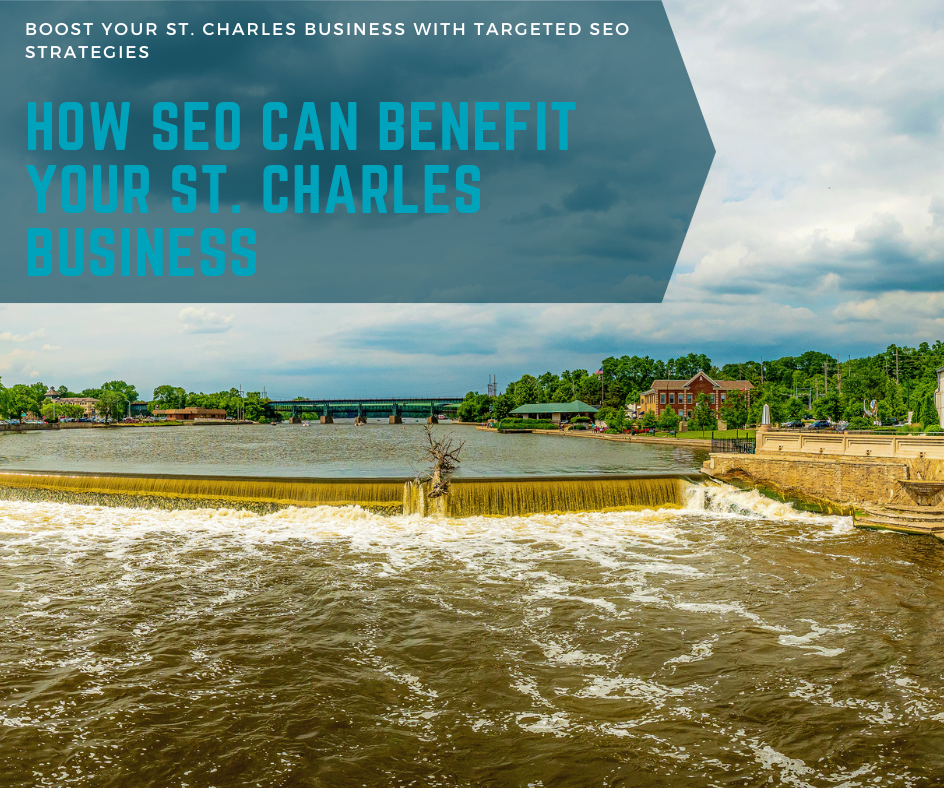 Boost Your St. Charles Business with Targeted SEO Strategies
St. Charles, a vibrant and growing community in Illinois, is becoming an increasingly competitive market for businesses. In order to thrive and stand out from the competition, it's crucial for local businesses to adapt and embrace modern marketing techniques. Search engine optimization (SEO) is one such technique that can bring incredible benefits to your St. Charles business. In this blog, we'll explore how implementing a targeted SEO strategy can help you attract more customers, build brand awareness, and ultimately grow your business.
Increased Visibility and Organic Traffic
One of the main benefits of SEO for your St. Charles business is increased visibility on search engines like Google. By optimizing your website with targeted keywords and phrases, you can rank higher in search engine results pages (SERPs). This increased visibility translates into more organic traffic to your website, resulting in higher chances of attracting potential customers who are searching for your products or services.
Targeting Local Customers
As a St. Charles business, targeting local customers is essential. With local SEO, you can optimize your website to appear in search results when users search for businesses in your area. This includes optimizing your Google Business Profile, adding localized keywords, and obtaining quality local backlinks. By doing so, you can attract customers who are more likely to visit your physical store, making it a highly effective marketing strategy.
Enhancing User Experience
SEO is not just about keywords and backlinks; it also involves improving the overall user experience on your website. This includes optimizing website load times, ensuring mobile-friendliness, and providing relevant and valuable content. A well-optimized website not only improves your search engine ranking but also ensures that users have a positive experience, making them more likely to return or recommend your business to others.
Building Trust and Credibility
An essential aspect of SEO is establishing trust and credibility with your target audience. By ranking high on search engines, you demonstrate that your business is an authority in your industry, which can make potential customers feel more comfortable choosing your products or services. Additionally, by providing valuable content through blog posts or informative articles, you can establish yourself as a trusted resource in your niche, further enhancing your credibility.
Cost-effective Marketing
SEO is one of the most cost-effective marketing strategies you can adopt for your St. Charles business. Unlike traditional advertising methods that require a significant budget, SEO focuses on organic traffic and can yield impressive results with relatively low investment. Plus, once you've established a strong online presence, the ongoing maintenance costs for SEO are minimal compared to other marketing channels.
Long-lasting Results
SEO is a long-term investment that can deliver long-lasting results. While it may take time to see significant improvements in your search engine rankings, the benefits can last for years. By consistently optimizing your website and creating valuable content, you can maintain your online presence and continue to attract new customers.
Investing in a targeted SEO strategy can bring immense benefits to your St. Charles business. By increasing your online visibility, targeting local customers, enhancing user experience, and building trust and credibility, you can attract more customers and grow your business in this competitive market. Embrace the power of SEO and give your St. Charles business the competitive edge it needs to thrive.
How Reviews affect SEO
Improved Rankings: Positive reviews can help improve your website's search engine rankings. Search engines like Google use reviews as a ranking factor in their algorithms, so having more positive reviews can help boost your website's visibility on search engine results pages.

Increased Click-Through Rates: Reviews can also increase your website's click-through rates (CTRs) by providing social proof that your business is trustworthy and reliable. Customers are more likely to click on a website that has positive reviews than on one that has no reviews or negative reviews.

Increased Engagement: Reviews can help increase engagement on your website by encouraging customers to leave feedback and share their experiences. This can help improve your website's user experience and increase the time that customers spend on your site.

Improved Local SEO: Reviews can also help improve your business's local SEO by increasing your visibility on local search engine results pages. Positive reviews can improve your business's local search rankings and make it easier for customers to find your business when searching for products or services in your area.

Reputation Management: Reviews can also help you manage your business's online reputation by providing valuable feedback and insights into your customers' experiences. By responding to reviews and addressing customer concerns, you can demonstrate your commitment to customer satisfaction and improve your overall reputation.
Reviews can play a significant role in SEO by improving your website's search engine rankings, increasing engagement and click-through rates, and improving your online reputation. We recommend letting your customer know how important reviews are to you and ask them specifically for a Google review. The last point to remember is that it isn't enough to get reviews, you need to respond to both positive and negative reviews in a timely and professional manner.
How SEO Can Benefit Your St. Charles Business